Below is a partial list of organizations that provide information and support to caregivers.
Alzheimer Society's First Link® Dementia Helpline
The Alzheimer Society of B.C. provides province-wide education and support services to people living with dementia, their families, caregivers, and health-care providers. With resource centres in 15 communities, the Society is working to create a dementia-friendly province where people affected by dementia are supported, included, and acknowledged. Resources include: The First Link® Dementia Helpline: 1-800-936-6033, support groups, education programs, and more.
 
Caregiver Solutions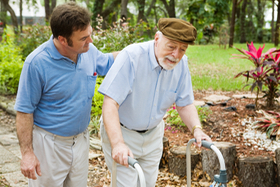 Caregiver Solutions is a health and lifestyle magazine. Its website provides access to current and past digital issues, which feature a wide range of articles, covering topics such as health and wellness, home care, safety, and expert advice.
 
Crisis Line Association of BC
The Crisis Line Association of BC provides emotional support, crisis and suicide assessment/intervention and resource information to the public. If you or someone you know is in crisis or requires emotional support, please call BC's toll-free 24/7/365 mental health support line at 310-6789 ( no need to dial area code). 
 
Family Caregivers of BC
Services include: one-to-one emotional support; help navigating the BC provincial health care system; referrals and information on community resources; access to support groups; and caregiver coaching appointments.
Inspired Senior Living Magazine
The magazine's website offers a number of useful and informative articles on the role of the caregiver and caregiver supports.
Project Lifesaver
Project Lifesaver is a community based, public safety, non-profit organization that provides law enforcement, fire/rescue, and caregivers with a program designed to protect, and when necessary, quickly locate individuals with cognitive disorders who are prone to the life threatening behavior of wandering. There are local chapters in Greater Victoria, Nanaimo, and Surrey.
St. Elizabeth
St. Elizabeth provides home care and other services that respond to client, community and health system needs across Canada. Experts are available to answer questions about caregiving or home care.
United Way of the Lower Mainland
In 2016, the organization published the Metro Vancouver Family & Friend Caregivers Information and Resource Handbook (PDF) for seniors and boomers, who are caring for older family members and friends.