Exercises for wheelchair users: Do you have any tips for online exercises for people who use wheelchairs?
Primary tabs
Do you have any tips for online exercises for people who use wheelchairs?
I am now using a wheelchair but would like to find exercises online that don't show a 19-year-old going so fast and moving 4 or 5 steps for each exercise!
Products mentioned in our answer below are provided to inform you about the types of technologies available and have not been evaluated by CanAssist. They may or may not be appropriate in your particular situation.
Regardless of your physical abilities, exercising is a great way to improve or maintain your strength and flexibility, while also increasing positive feelings and mental well-being. While there are dozens of free guides and videos online that show common wheelchair exercises, it is important that you find one that is easy to follow and applicable to your needs.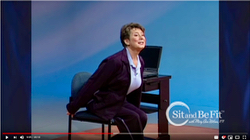 It is highly recommended you consult with a registered healthcare provider before starting any new exercise regime, including the ones listed below.
Here are a few resources you may want to explore.
The British Columbia Falls and Injury Prevention Coalition offers three levels as part of its Strategies and Actions for Independent Living (SAIL) Home Activity Program. The SAIL program offers a series of beginner exercises for seniors, with the first six activities designed to be completed in a sitting position. These videos are clear, easy to follow and offer adjustments to increase the difficulty of the exercises if needed. (The exercises are also available in Farsi, Mandarin Chinese and Punjabi.)
Seated Exercises for Older Adults is an easy-to-follow video by Dartmouth-Hitchcock, a health organization in the U.S. This video offers five chair exercises for seniors and provides clear instructions that are read slowly by the speaker. Resistance bands are shown as a way to increase the difficulty of the exercises but – depending on your mobility and strength – this might not be required. If you are interested in purchasing a resistance band, they are available in many several stores, including the SeniorStore, Amazon.ca and London Drugs, and range from about $20 (Cdn) to $60 (Cdn), plus shipping fees.
Sit and Be Fit – Workplace Workout by Mary Ann Wilson, RN is another easy-to-follow chair exercise routine for adults in a workplace setting. The video provides several simple exercises for your neck, back, arms and legs with clear instruction and is designed to be completed by anyone in a sitting position. Sit and Be Fit is a non-profit organization committed to healthy aging advocacy, and its YouTube channel has several other chair-oriented exercises that you may want to explore.